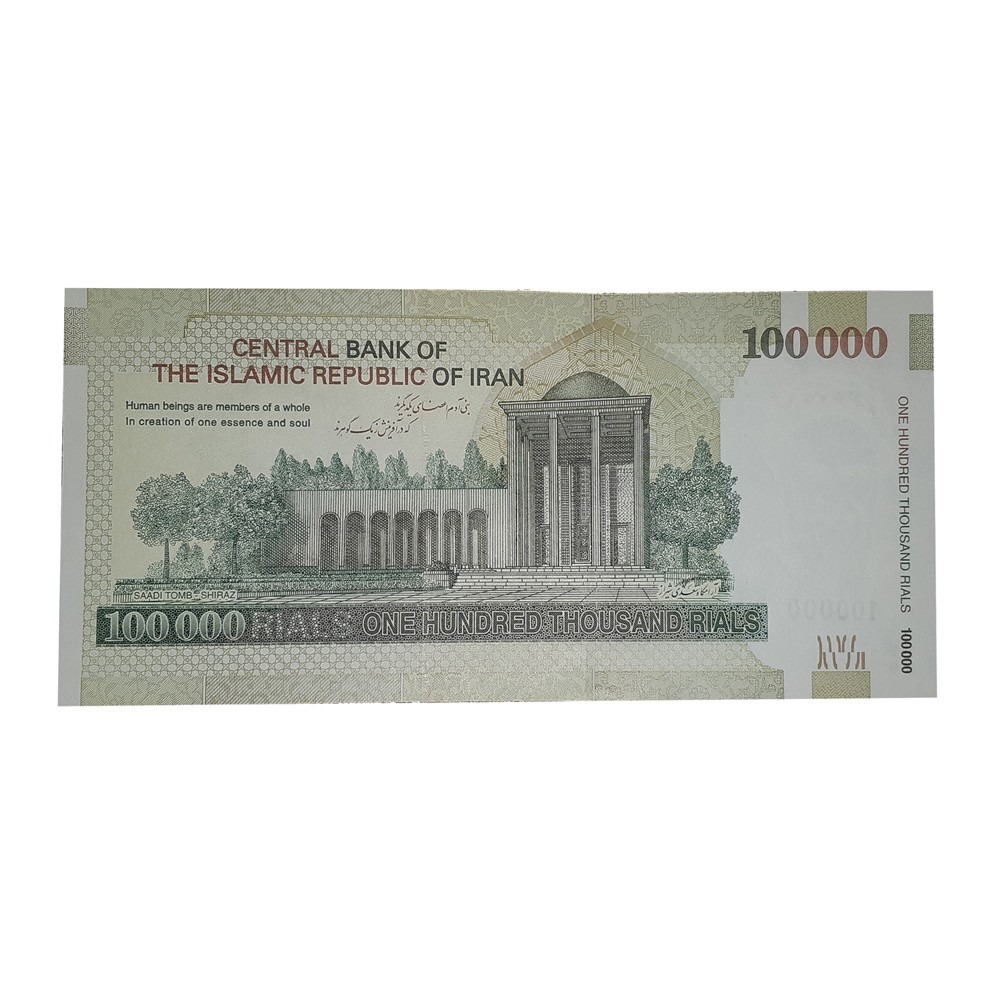 The Central Bank of Iran circulated 100,000 Rials banknote in June 2010.
Green. Front: Ayatollah Ruhollah Khomeini. Back: Lines from Gulistan (The Rose Garden), a poem by Saadi; trees and Saadi's tomb in Shiraz. Solid security thread with printed Arabic text and windowed security thread with demetalized 100000. Watermark: Ruhollah Khomeini and electrotype 100000. Printer: Unknown. 166 x 79 mm. No date. Signature unknown. Intro: 22.06.2010.
1- 

Combination watermark

Portrait of Imam Khomeini and the denomination ('100.000').The three dimensional watermark of Imam Khomeini in the left part of the banknote is embedded in the paste of paper. When the Banknote is held up to the light, the image can be seen from both sides.
2- 

See-through

An image that is partially printed on both sides of the substrate. When the register is viewed under transmitted light, the two parts fit together seamlessly to create a single shape or pattern.

On the lower-left side there is a "See-Through Image" of the denomination (100000) which is completed when the banknote is held up to the light.
| | |
| --- | --- |
| | Small letters, numbers and/or images that are barely perceptible with the naked eye, but become visible at low magnification (under a loupe).On front side of the banknote are in intaglio microprint and microletter. |
| | |
| --- | --- |
| | On front side of the banknote, in 3 colors of brown, jaspery and light green, including portrait of Imam Khomeini (peace be upon him), border and texts, and on back side of the banknote in 3 colors of brown, dark olive greenish and light green including Saadi Tomb, border and texts, which are easily touchable with hand's fingers. |
5- Embedded Security Thread

Fluorescent polyester embedded security thread, with the phrase of Bank Markazi Jomhouri Islami Iran on it is visible under UV light in 3 colors of red, blue and green.
6- 

Windowed security thread 

Holographic windowed security thread with 2.5 mm width, including logo of The Central Bank of the Islamic Republic of Iran, along the length which is visible against the light in 7 colors with a change of light angle, and the colorless number of (100000) that will be observed against the light.

 
7- Intaglio Sign for the blind

Is in brown and consists of four circles at the lower-left corner on the front side of the banknote